RV Camping at San Diego's Kampground Of America (KOA)

by Meg Brunson
When you travel with four children, finding accommodations that make you feel welcomed without costing an arm and a leg is extremely important.   I have to admit, when I told my husband we were going camping he was less than thrilled. He was a boy scout as a child and felt like he would be happy if he never had to camp again.  Luckily, he's a good sport and went along with my plans - only to be pleasantly surprised by how much he enjoyed camping at the San Diego Kampground of America.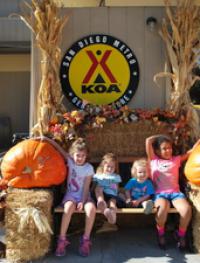 Did you know that more than 22 million Americans will RV this year!?  It's true, and now that we have experienced RVing in one of the San Diego KOA's park model cabins, I can see why!  A vacation for a family of four is 23-59% less expensive with RV travel over other forms of travel - and we avoided airport headaches.  Our cabin was amazing - the sleeping arrangements included a queen sized bed and TV in the "master" bedroom (for mom and dad), bunk beds in another room, a sleeping loft (the mattress sat on the floor) and a pull out couch (which we did not use).  The kids took turns between the bunk beds and the sleeping loft.  The cabin was equipped with a full kitchen - dishes, pots & pans and a Keurig coffee maker.  In addition, it had heat & A/C, sheets, towels, pillows, and blankets.  We even had basic cable, a DVD player with surround sound, and wifi! We only needed to bring our clothes, food, books, and toys for the kids.  This is the kind of camping that anyone can get behind.
The San Diego KOA was amazingly kid-friendly, with a weekend schedule jam-packed with family-friendly fun.  The kids enjoyed their barrel-train rides, rocket building, cookie decorating, tie-dying, jumping pillow, and swimming pool.  If we had more time (or next time we visit, because I am sure there will be a next time!), the kids would have loved to participate in the lollypop hunt, family movie under the stars, and bicycle rental availability.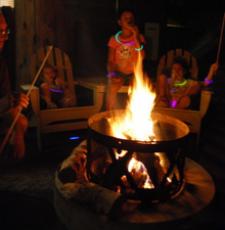 We got good use out of our fire pit, cooking hot dogs for lunch and s'mores nightly (there was a gas grill too).  We also took advantage of the kitchen in the cabin to cook kid-approved favorites like mac & cheese and oatmeal.  Having so many options for cooking on site helped us save money and also cook foods we knew our picky-eaters would enjoy.  We ordered a few meals at the cafe during our stay - testing both their breakfast and dinner options.  The food did not disappoint.  Prices were reasonable and the food was good - we especially enjoyed the pizza, and the kids loved the dough knots!
Ready to plan a vacation like ours?  
For more information on the San Diego KOA, click here.
Visit GoRVing.com for information on where to go, what to bring, different styles of RV's available and so much more!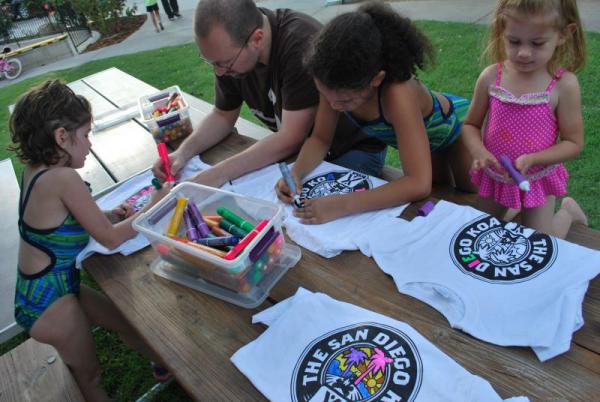 ---
Click here for more vacation reviews in the West or click here for vacation ideas across the country.
---
© 2017, KidsOutAndAbout.com
Meg Brunson, a mother of four, is Phoenix editor of KidsOutAndAbout.com.