Jazz Fest Review: Grace Kelly
by Steve Santini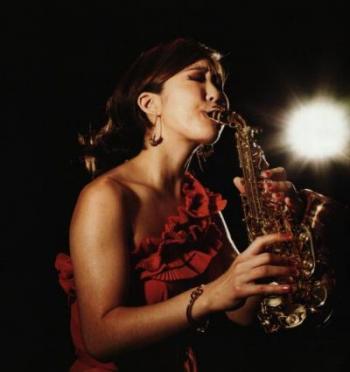 When I saw Grace Kelly for the first time on Saturday night at Harro East Ballroom, I immediately knew I was in for a treat. She wins you over with her mesmerizing smile and droopy psychedelic hair highlights. She might be the girl you want next door. She moves, she gyrates, she undulates with youthful exuberance and charm. She radiates supreme enjoyment, passion, and confidence. So you see, when she raises her alto sax and blows, you're already practically floating on a cloud. Occasionally, perhaps in her "smoother" moments, she might sound a bit like Kenny G on steroids (I do mean that as a compliment), but she does whatever she wants and does it very well.  Her smoking duet rendition of "St. Thomas" on sopranino sax, with Ross Pederson killing it on drums, showed that she had bop chops aplenty, but for the most part – on this set at any rate – she chose to blend a variety of musical styles: dance grooves, funk, gospel, soul, tender ballads – there was a little of everything, generously laced with improvisation, and it was all delightful.
Oh, and she's an amazing songwriter and a soulful vocalist, helped out with perfectly blended harmonies from rock-solid bassist Julia Pederson and fine keyboardist Tyler Cash (flown in from L.A. for the gig). A notable high point of the show start to finish was the contribution of highly versatile guitar master Pete McCann, who appears to be constantly touring with a variety of bands – and with good reason. Whether it was a burning solo, a tasty arpeggiated counterpoint to a vocal melody, or trading licks with Grace, he effortlessly coaxed an endless array of gorgeous sounds out of his off-the-shelf '88 Gibson 335. (Well, it is an iconic ax, but it's the player not the gear, people!)
I loved the "Grace-ified" covers, naturally,  ("Summertime" and "Amazing Grace" can never disappoint), but her original compositions completely won me over, the first of which on this set was the lovely, buoyant, get-up-and-dance groove tune "Working For the Dreamers"; if you haven't seen the video, check it out on youtube.  "I wanna know…" she croons, and I too want to know how Grace Kelly can be such an unstoppable dynamo of uplifting, life-affirming energy: "Love won't turn us away." She may bring tears of joy to your eyes, but no worries. You'll feel better for it.
I could go on and on about this gifted young woman; suffice it to say, you have to see her, but you still may not believe her. The Rochester Jazz Fest is her favorite, she says, so put her at the top of your list the next time she comes through. You may even get to catch her spine-tingling break-up tune "Eggshells", in which she laments "but I can't, no I can't drive this train alone".
I don't know Grace. I think you can.
---
© 2015, KidsOutAndAbout.com / BeyondThe Nest.com
Steve Santini writes music reviews for Beyond The Nest when he's not busy playing with his grandkids or his Gibson ES-175.