BeyondTheNest.com review of Private Lives at Geva Theatre Center

by Michael Galvin
What is passion, really, other than a waltz on the fine line between love and hate? Doomed lovers can't resist one more swing at romance in Noël Coward's hilariously debonair comedy "Private Lives."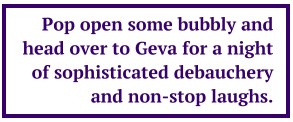 After five years apart, happily divorced Elyot and Amanda run into each other at the hotel where they happen to be honeymooning in adjacent suites with their new spouses. A shared cigarette (there are LOTS of cigarettes) leads to cocktails (there are LOTS of cocktails) and it isn't long before the two exes run off together for a week of unbridled passion and tooth-and-nail fighting. By the time their jilted partners catch up with them, Elyot and Amanda have exhausted themselves with a flurry of hungry sex, champagne-fueled confrontations, and witty banter. It's maddeningly entertaining.
Elyot is a 40-something cad perfectly willing to settle down for a dull life with 23 year-old Sybil – a girl convinced she can undo all the psychic damage done by Elyot's marriage to the hate-filled Amanda. David Andrew Macdonald brings a world-weariness to Elyot's early scenes that lifts the second he realizes the woman on the next balcony is the ex-wife he never really got over. It's a fun performance filled with knowing looks, adept pratfalls, and just a hint of menace – at 6'3" Macdonald towers over the set. As Amanda, Monette Magrath is a first-class lounger with a collection of silk underthings, a hair-trigger temper and a willingness to crack a phonograph record or two over Elyot's skull. Magrath whipsaws between cooing and threatening right hooks. She's the best thing in a production full of great things.
Jenny Leona is sweetness and propriety personified as Sybil, until the threat from Amanda brings out a hidden competitive spirit in the final act. Amanda's stuffed shirt new husband Victor could be a harrumphing buffoon, but Bill Christ lets compassion and a sense of right and wrong come shining through. The lovely Alexis Russo plays a French maid because by law all Noël Coward plays must feature a maid.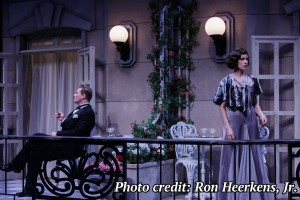 The play is directed with a sense of airy effortlessness by Geva's artistic director Mark Cuddy and scenic designer Nicholas Dorr earned a round of applause for his charming revolving set (what kind of monster doesn't love a revolving set?).
Coward claims to have dashed off the script to "Private Lives" in three days in1930. It's not a deep story, and after 87 years the back-and-forth is more than a little familiar. That said, are tuxedoes and dressing gowns ever outdated? "Private Lives" shows us love as a glamorous adventure. The screaming matches aren't a bug, they're a feature – a way for two people to live every moment together as a grand opera.
Pop open some bubbly and head over to Geva for a night of sophisticated debauchery and non-stop laughs. Style never goes out of style.
NOTE: As part of Geva's "Stage Door Project" students from McQuaid Jesuit and other local high schools take the stage for their own version of Private Lives on Monday April 3. I'm going to go ahead and assume there'll be less smoking and sex. 
---
"The Lake Effect" runs until Sunday, April 16, 2017. It is appropriate for sophisticated teens through adults. Click here for show times and tickets.
---
---
Michael Galvin is a professional screenwriter and the co-author of the REBELS OF THE LAMP series of YA novels on Disney's Hyperion imprint.
---
Subscribe to our weekly e-newsletter of arts, culture, and recreation in Rochester by clicking here!